"When you're goin' to Pandora, you'd better know the lingo.
"
Starring : Sam Worthington (Jake Sully), Zoe Saldana (Neytiri), Sigourney Weaver (Grace), Stephen Lang (Colonel Miles Quaritch), Michelle Rodriguez (Trudy Chacon), Giovanni Ribisi (Parker Selfridge)
Release Date : 18 December 2009 (USA)
Rating : 5/5
REVIEW
: Outstanding!
Pandora
adalah sebuah bulan dari planet Plyphemus yang terletak dekat dengan bumi. Di dalam planet tersebut terdapat
mineral unobtanium
yang berharga sangat mahal, maka bumi mengirim para prajurit untuk mengelolanya. Tapi, bukan berarti Pandora tidak berpenghuni. Disana hidup
suku Na'vi
yang wilayahnya merupakan tambang unobtanium terbesar. Untuk mendekati mereka, dengan kecanggihan yang luar biasa, dibuatlah
Avatar
yang merupakan campuran dari DNA manusia dan DNA Na'vi yang dikendalikan oleh seorang prajurit. Uniknya, prajurit itu bisa kapan saja kembali ke tubuh manusia mereka semula. Namun Jake Sully melakukan hal lain. Setelah "bergabung" dengan suku Na'vi dan bertemu dengan Neytiri, ia merasakan bahwa manusia telah salah dengan melakukan semua ini. Ditambah lagi, para prajurit tersebut menghancurkan tempat tinggal suku Na'vi bahkan membunuh mereka. Lalu apa yang dilakukan Jake Sully beserta teman-temannya? Pengabdiannya pada manusia atau justru malah penghianatan?
Watch it soon, you'll be surprised.
In my opinion,
oh God, what a great movie it is
. Seneng banget gue akhirnya nonton Avatar. Walaupun udah lama tayang, tetep aja antriannya penuh sampe ngebuat gue nunggu 3 jam hahahaha. Ini emang bener-bener ngebuktiin bahwa Avatar menarik banyak perhatian penonton. Animasinya? Buat yang suka ngomel atau kritik mengenai animasi dan setting film-film (termasuk gue) pasti akan bungkam ketika menonton Avatar. Ceritanya? Nggak ketebak. Endingnya?
Well, awesome.
Yang pasti, karakter dalam Avatar ini kuat-kuat banget,
good actors
! Tonton Avatar 3D sebagai rekomendasi gue, kita bakal disuguhin dengan animasi yang lebih keren.
BEST ACTOR
:
Sam Worthington
(Jake Sully) karena dua karakter yang ia mainkan benar-benar membuat ia terlihat berbeda. Sewaktu ia menjadi manusia, di kursi roda, ia keliatan tak berdaya. Sementara ketika ia menjadi Avatar, well, ia Avatar yang paling gagah bahkan untuk suku Na'vi.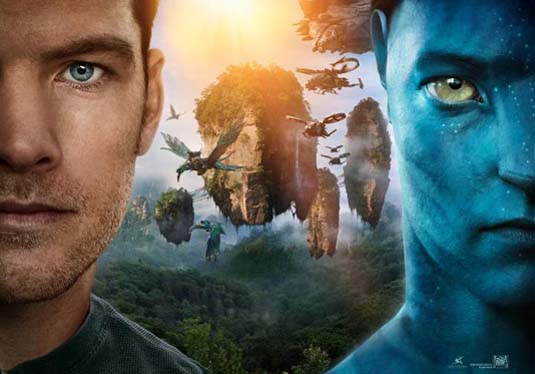 BEST SCENE
: Sewaktu suku Na'vi berkumpul di pohon keramat mereka. Hmm merinding!