"Every moment.......Love begins."
Starring : Bradley Cooper (Gus), Hayden Christensen (Ben), Andy Gracia (Garry), Rachel Bilson (Molly), Natalie Portman (Rifka), Orlando Bloom (David), Christina Ricci (Camille), Shia LaBeouf (Jacob), etc.
Release Date : 16 October 2010 (Spain)
Rating : 3/5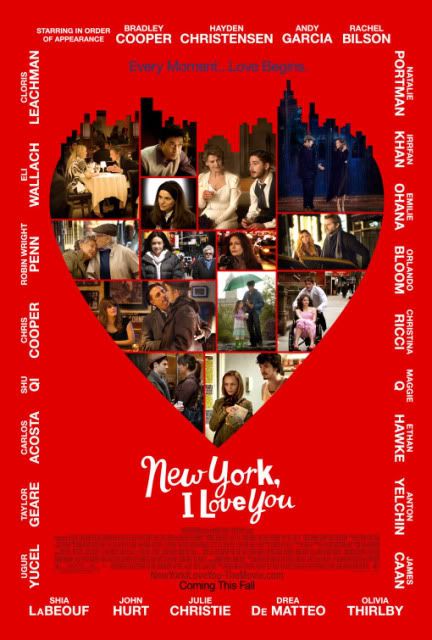 REVIEW
: Setelah sukses dengan film Paris, Je T'aime (2006), Emannuel Benbihy pun berencana untuk mengisahkan cerita cinta di kota-kota besar. New York, I Love You mengisahkan 11 cerita cinta di New York. Film ini istimewa dengan mencampur semua hal mengenai cinta baik cinta sepasang kekasih, keluarga, pertemanan bahkan dengan orang yang tidak pernah kita kenal sebelumnya.
In my opinion, this movie is sweet. Dengan durasi kurang lebih 10 menit per sekuel dan cerita yang simpel, walaupun tidak meninggalkan kesan mendalam dan saya sempat mengantuk menontonnya.
B
EST ACTOR
: Shia LaBeouf. Perannya sebagai pelayan hotel yang pincang dengan kisahnya yang cukup mengharukan berhak diacungi jempol.
BEST SCENE
:
Perjalanan kakek-nenek Eli Wallach dan Cloris Leachman ke Brighton Beach yang lucu dan romantis. They'll show you the power of love!